12/07/2005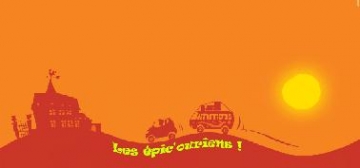 Ca devrait rappeler quelques souvenirs a certains et en retrouvant ce visuel que Pilou avait cree pour une fete organisee a La Caussade, je me rends comte que ma vie n'a pas trop change.
Toujours epicurienne, pas de Caussade mais mon roof top a lamma, plus de smart mais une Joncque dimanche et toujours pleins de copins prets pour de nouvelles aventures!
Donc je me pique de penser qu'a defaut d'etre pathetic ou pis! de penser pis que pendre.... je prefere me perdre dans l'epic! sinon? sinon? Rien!
05/07/2005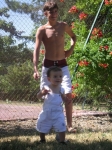 Time goes so fast... I just blew my birthday's candles this week-end and monday I recieve those 2 pictures making me feel so happy but not younger ...humm hummm
The 2 older ones are my nephews and the one with the blond hair, Baptiste, is supposed to be the youngest of the family... The big one is Leopold!
No, no, the baby is not another nephew!
Yes it's a boy, yes he is from the family and his name is Cyprien but he his the son of my, Ahhhhaahhh it hurts to say it.... my niece, Tiphaine!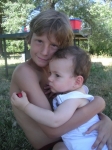 YES I AM GRAND AUNT SO WHAT!!!! There is not only old, bearded, deaf, evil and scary grand-aunts...Pffffffffffffffff and I will be twice in August because this gorgeous baby is going to have a little sister!!!! Double Pfffffffff ;-)
No comments, pictures speek by themselves ;-)