05/07/2005
The new generation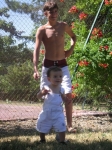 Time goes so fast... I just blew my birthday's candles this week-end and monday I recieve those 2 pictures making me feel so happy but not younger ...humm hummm
The 2 older ones are my nephews and the one with the blond hair, Baptiste, is supposed to be the youngest of the family... The big one is Leopold!
No, no, the baby is not another nephew!
Yes it's a boy, yes he is from the family and his name is Cyprien but he his the son of my, Ahhhhaahhh it hurts to say it.... my niece, Tiphaine!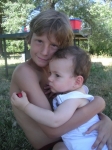 YES I AM GRAND AUNT SO WHAT!!!! There is not only old, bearded, deaf, evil and scary grand-aunts...Pffffffffffffffff and I will be twice in August because this gorgeous baby is going to have a little sister!!!! Double Pfffffffff ;-)