22/04/2005
SOOOOO FUNNNNYYYYY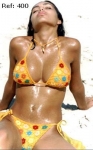 That is sooooooo funny .....I was just having a look at the Lamma web site to see what is happening on the island and suddenly I found a post on a story of bikinis.... The most surprising is the number of comments... :-) so I decided to click on the link to have a look on the forum and I had a reeaaaallll great time!
Men can be sooo creative and helpful to find a name for a new shop opening soon in selling some, some, some...... brezilian Bikinis!!!
So it makes me think that:
1- Girls, you should look like the picture if you want to wear this kind of bikini on Lamma Beach this summer...
2- Girls, maybe that is how you'll look like if you wear those bikinis... come on come on when is this shop opening?
2- Girls, reading the guys comment, you can imagine what they think (in the best case) when then look at you on the beach.....;-)))))
It's summertime!!! Youpi Tralala...
Vamos a la playa!