24/05/2005
Paddy and the computer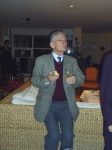 The real name of Paddy is Patrice. But his nickname is Paddy for his family and friends and Paddi for his grand childrens and his first grand grand son! Paddy is 78 years old and lives in France, exactly in Bordeaux.
Paddy is allergic to computers. His wife, Fafa, tries to teach him how to send emails but he does not want to type! "You know Darling, I had an assistant to do it so that's not at my age I am going to start!"
But Paddy has a daughter who decided a couple of months ago to go to live really far from them. He sent her some letters but each time she replied by email!
Couple of days ago, Paddy had a nightmare. He was trying to write to his daughter but could not and he had something important to tell her.
So he woke up, gave a look at Fafa and told: "I want to learn how to use a computer!"
That's how my lovely Dad is starting to go to school again.........
Thanks...