18/04/2005
Saucisson in the Island Bar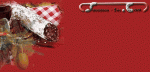 If one day someone told me that I could share with my best french friends a Saucisson in the Island Bar on Lamma Island.... But I did!!!!!
It was absolutely great. Olivier brought 3 Saucissons from France...
We had one on saturday with a good bottle of Chateau Cablanc and one yesterday as aperitif in the Island Bar!
So happy to share this special moment with people I love so much!
PS: you want to order Saucissons? I found this website for you http://www.saucisson-sec.com....
Bon appetit!!!!