23/08/2005
Peter and the Balsamic Vinegar
You have Charlie and the chocolate Factory ben now you will have Peter and the balsamic vinegar....
Peter... Him....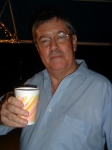 had decided to invite M and me, 2 frenchies.... to have dinner sunday night at his place.
What a good idea... So, sunday evening we meet Peter in the IB. I brought a camembert cooouuuuulant..., some magret de canard fourre au foie gras... sorry but it tastes better in french ;-) and some bread. M a good bottle of Chablis direct from France and Peter, Peter... He forgoootttt.... I cannot believe it! Peter, we told you a salad, some olive oil and balsamic vinegar... Arrggghhhh! And where he leaves, I promise that if you forget the salt, you eat without salt!
So M and me arrive at Peter's place, Wahhooo very nice house, good taste, nice furniture and plants vases outside..ok! ok! i should not have observe so much but I love to see where and how your friends live. I think you learn more about them ;-)
So we stay outside for a drink as M and I smoke and it's not raining... the first time since 8 days... Peter serve the very very good Chablis 1997 in cristal glasses Pfffff! ands says.. ok Girls, maybe we should prepare dinner?
Come on Peter... you have for once 2 frenchies with you so.... trust us! Take care of the wine, we take care of the food... Ok, ok,.......
2 minutes later M and me in the kitchen
Euuhhh Peeettteeerrrr where can I find the vinegar?
Peter: Just behind the kitchen door
Me: Euhhh Peter, no vinegar!!!! Just 3 lonely bottels lost on those shells but no vinegar...
Anyway I will try with the soya sauce!
Pouaaarrrkkkkkk
okok, I will not do it again but I have to confess that I put some english mustard, olive oil, soya sauce and some chutney! Now I understand why Peter, trying this strange sauce, prefered an ugly instantitaliandressinginplasticbottle! I forgive you Peter!
But that's nothing comparing to M who shouted to Peter
Peterrrrrr? Where do you range your bowwwwwwls?
My balls?????????
Pouarf....... M is cramoisie, Me, ptdr and Peter is laughing so much....
We were just looking for salad Bowls but no one in Peter's place ;-)
Anyway we have spent an amazing dinner and today we have to send an email to Peter to remind him what he has to buy for the next time : Balsamic vinegar, candles and salad Bowls...
Euh Girls, the salad Bowl, I buy it in wood or in Plastic! Arrggghhhhh Peter, in wood of course ;-)